Updated: Aug 1, 2022
A rare interview with the mercurial painter,
Jean-Michel Basquiat,
conducted in 1983 in his studio on Crosby Street, in SOHO. --
Basquiat, an internationally renowed as well as the enfant terrible of the 1980's art scene, died tragically in 1988 at the age of 27. Both during his brief life and since his untimely death, stories and legends abound which chronicle his metoric rise to art world stardom.
In 1996, Basquiat's life was fictionalized in the film entitled BASQUIAT, directed by fellow artist Julian Schnabel. On this ART/new york program, the 21 year old Basquiat is interviews by art historian - curator Marc. H Miller, PhD. Already a well known art world figure, Basquiat's fondness for high jinks as well as his exuberant spirit are captured as he describes his working process and comments upon his art world persona.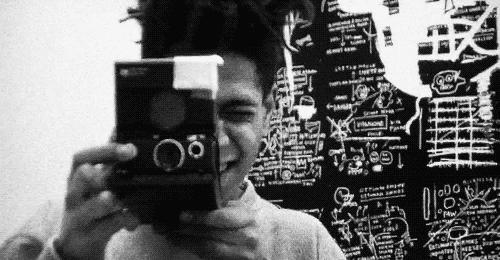 Jean-Michel Basquiat was an American artist who rose to success during the 1980s as part of the Neo-expressionism movement.
Basquiat first achieved fame as part of the graffiti duo SAMO, alongside Al Diaz, writing enigmatic epigrams in the cultural hotbed of Manhattan's Lower East Side during the late 1970s, where rap, punk, and street art coalesced into early hip-hop music culture. By the early 1980s, his paintings were being exhibited in galleries and museums internationally. At 21, Basquiat became the youngest artist to ever take part in documenta in Kassel. At 22, he was one of the youngest to exhibit at the Whitney Biennial in New York. The Whitney Museum of American Art held a retrospective of his art work in 1992.
Basquiat's art focused on dichotomies such as wealth versus poverty, integration versus segregation, and inner versus outer experience. He appropriated poetry, drawing, and painting, and married text and image, abstraction, figuration, and historical information mixed with contemporary critique. He used social commentary in his paintings as a tool for introspection and for identifying with his experiences in the Black community of his time, as well as attacks on power structures and systems of racism. His visual poetics were acutely political and direct in their criticism of colonialism and support for class struggle.
Since Basquiat's death at the age of 27 from a heroin overdose in 1988, his work has steadily increased in value. At a Sotheby's auction in May 2017, Untitled, a 1982 painting by Basquiat depicting a black skull with red and yellow rivulets, sold for $110.5 million, becoming one of the most expensive paintings ever purchased. It also set a new record high for an American artist at auction.
Learn about the life of American artist Jean-Michel Basquiat, from his start as part of graffiti duo SAMO to his rise as an internationally renowned painter. -- Like Beat writers who composed their work by shredding and reassembling scraps of writing, artist Jean-Michel Basquiat used similar techniques to remix his materials. Pulling in splintered anatomy, reimagined historical scenes and skulls, he repurposed present day experiences and art history into an inventive visual language. Jordana Moore Saggese explores the chaotic and prolific art of Basquiat.
This is from the final episode of State of the Art, a series of documentaries about the visual arts in the 1980s. Filmed in Europe, the United States and Australia in 1985-6, the six programmes feature many key artists including -- in addition to Basquiat and Warhol -- Cindy Sherman, Antony Gormley, Hans Haacke, Eric Fischl and Joseph Beuys. The films also explore the intellectual context of the time and the ideas of post-modernism.
ARK SKL is an inclusive Visual Arts platform that shares Art education in a digestible and resourceful way. ART SKL hopes to educate students and Art enthusiasts on Art History of ALL time (from historical to famous and contemporary). We encourage you to join in with the 'Artists Response' and share your work with us. This video gives a condensed history on the life, art and untimely death of Jean-Michel Basquiat. This video gives an educational insight into his upbringing, his entrance into the art world as one half of SAMO, continuing to his breakthrough work and last pieces. Jean Michel was a brilliant Artist- delving in to themes and issues that we still tackle today. This video includes footage from below resources: Tamara Davis' 'The Radiant Child' Basquiat's first interview Interviews with Basquiat and his work Raw and unseen footage of Basquiat's work SAMO Footage from Film Downtown 81 Downtown 81 by Glenn O'brien Andy Warhol and Jean Michel's final exhibition Gray- Jean Michel's band video
art educatioN jean michel basquiat education
To Control This Trading Card First SIGN UP AS A POPOLOGIST®!
How To Add Value:
Before you can purchase this POPOLOGY® Crypto Trading Card, Publish your knowledge or POPcontent™ bubble to the appropriate & categorical topic of chosen artist Crypto Trading Card. How do you know the data you propose to add to the blockchain biopic of this Artist?Authentication, and great details add great value to this Fan portal. Open a POPOLOGY® Networks Digital Wallet & start making POPtoken™ & POPOLOGY® Coin™, from your mobile phone, or computer world wide. If your POPcontent™ is not validated with footnotes, photos, or articles, it will be POPPED, and no longer visible.
With POPOLOGY® you can do blockchain ledgering to your content: write posts, follow members, manage comments & more.
Add media to your POPOLOGY® Crypto Trading Card!
When creating your POPcontent™ you can:
Upload images or GIFs

Embed videos and music

Create galleries to showcase a media collection

ADD VALUE WITH UNKNOWN NEW DETAILS TO MAKE ROYALTY PAGE Fan Gold!
Hashtag your posts
Love POPOLOGIST® BASQUIAT? Good news! US TOO !
You can add tags throughout your posts to reach more people.
So go ahead and POPOLOGIZE™ away!
POPOLOGIST® Members can follow each other, write and reply to comments, and receive trading notifications. Each member gets their own personal profile page that they can customize, POPcontent™ tradeing on the blockchain.
Tip: You can make any member of your Trading Card a contributor (without purchase) so they can add POPcontent™ for your crypto value to raise. Adding multiple contributors is a great way to grow your content and keep it fresh and diversified.